Restaurants in Pennsylvania are a driving force in the state's economy as well as across the country. Restaurant jobs represent 10% of employment in Pennsylvania by employing well over half a million workers. With a solid foundation in culinary education, graduates can enter the workforce and look forward to continued job growth, or continue to build upon their skills at a culinary institute.
GET THE SKILLS YOU NEED TO SHINE
The Culinary Arts program is currently one of only 122 secondary programs in the United States accredited by the American Culinary Education Foundation (ACFEF). The ACF is a professional organization for cooks, bakers, and chefs; they also provide clear path to industry certification giving graduates an advantage as they develop entry-level marketable skills. Attending an ACFEF-recognized quality program ensures our students are receiving a culinary education that maintains high standards. Students are able to obtain Certified Fundamentals Cook (CFC), if they meet requirements.
Training for a career in restaurants, hotels, hospitals, and skilled nursing facilities begins with theory and hands-on experience in our fully-equipped commercial restaurant facilities. Our ACF-accredited program of study includes safety and sanitation, nutrition, basic knife skills, cooking and baking concepts, menu planning and dining room service, while students are encouraged to develop a work ethic that is in line with the industry's stringent standards.
Students can obtain ServSafe Food Handler certification, which is a national certification that makes them marketable to employers.
STUDENTS ARE EXPECTED TO:
Be self-motivated independently or in teams
Be able to master measurement requirements, including division and multiplication of fractions
Stand for long periods of time
Comprehend written and verbal instructions
Perform repetitive work motion requiring hands-on skills
Possess a neat appearance and good personal hygiene
PROGRAM ACCREDITATION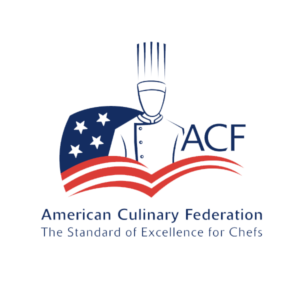 Student Testimonial:
Culinary Arts
COLLEGE CREDIT
GACTC graduates can get a jump start on post-secondary education by taking advantage of the various articulation and/or dual enrollment opportunities. Review the college credit opportunities for the Culinary Arts program.
POSSIBLE INDUSTRY CREDENTIALS
Certified Fundamentals Cook (CFC)

OSHA 10

ServSafe Allergens

ServSafe Food Handler

ServSafe Workplace

ServSafe Food Protection Manager Certification (adult learners only)