Nicole Zernick, Career & Technical Education Coordinator at the Greater Altoona Career & Technology Center (GACTC), has been named as the 2021 recipient of the Judith A. Rossi Educator of the Year Award by the Blair County Chamber of Commerce.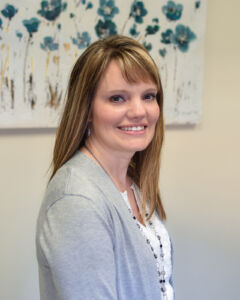 This award, according to the Blair Chamber, "was created to honor an individual who has had an impact on students, schools or educational systems that also benefit the local business community." This award recognizes those individuals who serve as a bridge between our education and business communities. Mrs. Zernick is the third recipient of this award since its inception in 2019. 
Mrs. Zernick has been with the GACTC since 2014. Prior to 2014, she held teaching positions with the Altoona Area School District and Bethel Park School District. She began her career with the GACTC as the Retention and Career Placement Counselor for the continuing education programs, and was promoted to Continuing Education Coordinator in 2016. In February 2019, Mrs. Zernick was promoted to Career & Technical Education Coordinator, a new position in the GACTC, where she assumed responsibility for many of the core areas that make the GACTC so valuable for high school and adult students and the regional business community. In this role, Mrs. Zernick's focus has been on ensuring our programs meet the expectations of the industry partners.  In just a short time in this position, Mrs. Zernick has led efforts to maintain the GACTC's various accreditations, increase the number of certifications available to for students, foster new postsecondary articulation agreements, and obtain and manage a number of grants. Additionally, Mrs. Zernick provides leadership and oversight of the school's Occupational Advisory Committees and Work-Based Learning office.  
"Through all of these efforts, and many more, Mrs. Zernick continues to make a positive impact for both our students and the regional business community" commented Eric Palmer, GACTC Executive Director. 
Additionally, Mrs. Zernick serves on several committees and boards, including the Middle States Association Commissions on Elementary and Secondary Schools (the accrediting body for the GACTC) Domestic Schools Advisory Committee, Pennsylvania Highlands Community College Blair Center Advisory Council, Blair Chamber of Commerce Basics Career Fair Committee, and the Cresson Lake Playhouse Board of Directors. Mrs. Zernick resides in Ebensburg with her husband, Jody, and children, Jakob and Kaitlyn.